Methylamp Whole Cell Bisulfite Modification Kit

| | |
| --- | --- |
| Cat#: | P-1016-40-EP |
| Quantity: | 40 rxns |
| Price: | 188 € |
| Supplier: | Epigentek |
User Manual
Direct Bisulfite Modification of Cells or Tissue Samples
• Proprietary and unique by directly modifying cells and tissues
• Suitable for minute amounts of starting material, e.g. microdissection samples
• Rapid streamlined 3 hour procedure from cells/tissues to modified DNA
• Completely converts unmethylated cytosine into uracil: modified DNA > 99.5%
• The lowest degradation of DNA in the modification process: more than 90% of DNA loss can be prevented with a unique DNA protection buffer

The Methylamp Whole Cell Bisulfite Modification Kit is an innovative and unique set of essential components which enables the analysis of DNA methylation and DNA modification directly from cells or tissues using Epigentek´s uniquely simplified and streamlined bisulfite method. The entire procedure can be completed within only 3 hours. The Methylamp Whole Cell Bisulfite Modification Kit is specifically designed for DNA methylation research using minute amounts of starting materials including cells cultured in 96-well/384 well plates, tissue section samples, microdissection samples, tissue biopsy and early embryonic cells/oocytes.

Eluted modified DNA by using the Methylamp Whole Cell Bisulfite Modification Kit is suited for real time MS-PCR. It is also suitable for all techniques currently used for the analysis of DNA methylation; including conventional MS-PCR, bisulfite sequencing, pyrosequencing, and methylation microarray. If you use the Methylamp™ Whole Cell Bisulfite Modification Kit for MSP, the numbers of PCR cycles should be greater than 45. The amount of starting materials for each modification can be 100-20000 cells, or 1 µg-100 µg tissues, or 0.2-2 mm2 tissue section samples. For optimal modification, the amount should be 500- 5000 cells, or 5-20 µg tissues, or 0.5-1 mm2 tissue section samples, respectively.

Procedure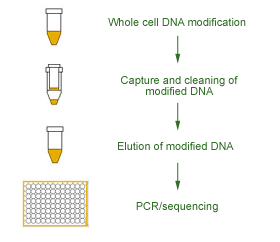 The Methylamp Whole Cell Bisulfite Modification Kit contains all reagents required for bisulfite conversion directly on a cell or tissue sample. The kit allows DNA to be isolated from cells or tissues, denatured and bisulfite modified simultaneously in same tube with the specific reaction buffer under the thermodynamic condition. In the modification process, bisulfite reagent reacts specifically with single-stranded DNA, thereby deaminating cytosine and creating a uracil residue. The unique DNA protection reagents contained in the modification buffer can prevent the chemical and thermophilic degradation of DNA in the bisulfite treatment. The non-toxic modified DNA capture buffer enables DNA to tightly bind to the column filter, thus DNA cleaning can be carried out on the column to effectively remove residual sodium bisulfite and salts.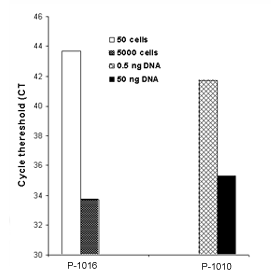 Analysis of DNA methylation from small sample amounts.
Different amounts of MCF-7 cells or DNA isolated from MCF-7 cells were modified using the Methylamp Whole Cell Bisulfite Modification Kit or Methylamp One-Step DNA Modification Kit, respectively. 10 µl of modified DNA were eluted and 2 µl analyzed using real-time PCR with a pair of primers and a probe designed to detect both methylated and unmethylated alleles of β-actin.

Related Links