TurboYFP-N Vector

| | |
| --- | --- |
| Cat#: | FP612-EV |
| Quantity: | 20 ug |
| Price: | 320 € |
| Supplier: | Evrogen |

TurboYFP Fluorescent Protein Vectors
When ordering 2 or more vectors encoding TurboYFP, you receive a 50% discount on the second and subsequent TurboYFP vectors.
Please use promotion code EV13 when placing your order.
Other TurboYFP vectors:
Data Sheet
• True yellow fluorescence

• Super bright signal

• Super fast protein maturation

• No cell toxicity


TurboYFP is an enhanced version of PhiYFP, modified yellow fluorescent protein from jellyfish Phialidium sp. Possessing super-bright yellow fluorescence with emission maximum at 538 nm, TurboYFP is ideally positioned between green and red fluorescent proteins allowing easy separation of these fluorescent tags by flow cytometry using common channels of detection and a single laser excitation line. Comparing to PhiYFP, TurboYFP matures faster in mammalian cells.

TurboYFP use
TurboYFP is mainly intended for applications where fast appearance of bright fluorescence is crucial. It is specially recommended for cell and organelle labeling and for tracking the promoter activity. Despite its dimeric structure, TurboYFP is still suitable for generation of fusions.
Both pTurboYFP-C and pTurboYFP-N vectors can be used to express TurboYFP alone in mammalian cells, however pTurboYFP-N vector is preferable for this application.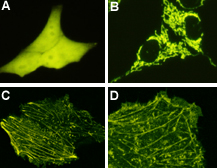 TurboYFP use for in vivo labeling. Fluorescent microscopy of mammalian cells expressing TurboYFP alone (A), TurboYFP fusion with a mitochondrial targeting signal (B), TurboYFP fusion to cytoplasmic beta-actin (C,D).


Reference
Shagin et al., GFP-like proteins as ubiquitous Metazoan superfamily: evolution of functional features and structural complexity.
Mol. Biol. Evol. 2004, 21(5):841-850.

Related Links
Learn more about TurboYFP Vectors
Cell Lines stably transfected with fluorescent proteins