Custom AmpliFluor Direct Primer Synthesis and Purification

| | |
| --- | --- |
| Cat#: | COSAF-BS |
| Quantity: | various options |
| Price: | Please inquire |
| Supplier: | Biosearch Technologies |
Data Sheet
In Cooperation with Biosearch



Manufactured to the biotech industry´s highest synthesis and purification standards, Amplifluor Direct Primers are currently available with FAM or Cal Fluor Orange 560 (Biosearch´s new VIC or HEX replacement), and can be ordered at the 200 or 1000 nmol synthesis scale.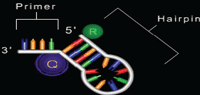 Amplifluor Direct Primer
Dual-labeled hairpin with sequence specific primer, used with one reverse primer.

If you are currently using Amplifluor Direct Primers for Gene Expression, or if you are considering an alternative to your current analysis technique, please contact BioCat for a quotation using the form below.
PDF-Downloads
- Will open in new browser window