pInvRecA Vector

| | |
| --- | --- |
| Cat#: | 42205-1-GVO-LU |
| Quantity: | Glycerol Stock |
| Price: | 492 € |
| Supplier: | Lucigen |
| Please note: | Genetically modified organism (GVO), see General Terms. |
Data Sheet
For generalized P1 transduction
DNA transduction using the E. coli bacteriophage P1 is highly useful in generating mutant strains for microbial genomic and proteomic studies, and for moving genes from one strain to another. However, phage P1-mediated transduction can be used only with wild-type (RecA+) E. coli strains. This limits the applicability of this procedure, as most E. coli cloning strains, like Lucigen´s E. cloni® 10G, are RecA– to provide stability of large inserts.

The pInvRecA Vector enables phage P1 transduction to be performed in any E. coli strain (1). This vector transiently converts RecA– to the RecA+ phenotype, allowing P1 transduction. The promoterless and inverted RecA gene is located between two convergently oriented Flp (Flipase) recognition target sequences (FRT) and four strong transcription terminators (rrnBT1), as shown below. This vector design prevents recombination before RecA induction. The RecA+ function can then be induced with heat-inactivated chlortetracycline (cTc). cTc activates the tetA promoter, inducing synthesis of the Flp yeast recombinase which then inverts the recA gene, resulting in RecA protein production. The conversion to RecA+ enables homologous recombination after phage P1 infection (see below).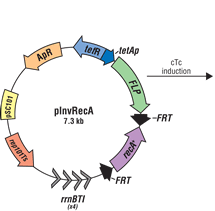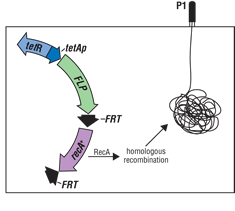 Schematic diagram of the pInvRecA vector (A) and its use (B). (A) Vector map: recA+, promoterless RecA gene; FRT, Flp yeast recombinase recognition sequence; FLP, Flp yeast recombinase gene; tetAp, tetracycline-resistance gene promoter; tetR, tetracycline resistance gene; ApR, ampicillin resistance gene; pSC101, pSC101 origin of replication; rep101Ts, temperature sensitive replication gene; rrnBT1, transcription terminators. (B) Vector use: incubation with heat-inactivated chlortetracycline (cTc) activates the tetA promoter, resulting in Flp/FRT-mediated inversion (activation) of the recA gene, leading to RecA protein production and enabling homologous recombination of DNA, injected by P1-transducing phage.


Following standard P1 transduction at 37°C, the RecA– phenotype is completely restored by growing cells at 42°C. pInvRecA contains the selectable ts-replicon from pSC101 that allows for replication in E. coli at 30°C but not at temperatures above 37°C. The higher temperature incubation completely eliminates the pInvRecA vector from host cells.


pInvRecA Reference:

(1) Sektas, M., Gregorowicz, M., and Szybalski, W. (1999). Transient conversion to RecA+ phenotype to permit P1 transduction in any Escherichia coli recA- strains. BioTechniques 27, 911.