FFPE Total RNA and Genomic DNA Purification Kit for Formalin Fixed Paraffin Embedded Tissue

| | |
| --- | --- |
| Cat#: | 25000-NB |
| Quantity: | 50 rxns |
| Price: | 291 € |
| Supplier: | Norgen |
User Manual
• Extract total RNA (large mRNA, rRNA, microRNA, siRNA) and genomic DNA separately or together from FFPE samples
• Rapid spin column format
• No phenol:chloroform extraction step
• Isolated RNA and DNA are of high yield, quality and integrity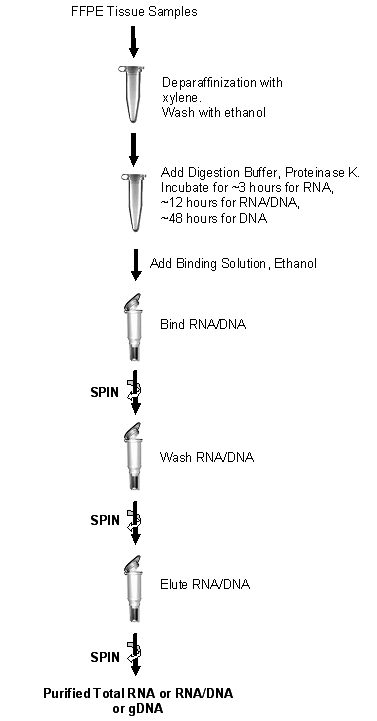 Norgen's FFPE RNA/DNA Purification Kit provides a rapid method for the isolation and purification of total RNA (including microRNA) and genomic DNA from formalin-fixed paraffin-embedded (FFPE) tissue samples.


Alternatively, the kit can be used to isolate total RNA alone or genomic DNA alone from FFPE tissue samples through varying the protease digestion time and performing optional RNase or DNAse digestions.

Using formalin to fix tissues leads to crosslinking of the nucleic acids and proteins, and the process of embedding the tissue samples can also lead to fragmentation of the nucleic acids over time. Norgen's FFPE RNA/DNA Purification Kit provides conditions that allow for the partial reversing of the formalin modifications, resulting in a high quality and yield of nucleic acids.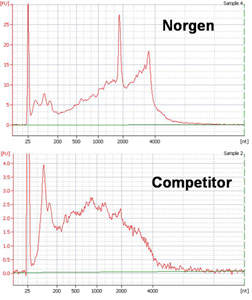 Figure 1. High Quality and Yield of Total RNA

Total RNA was isolated from equal amounts of an FFPE kidney sample using Norgen's FFPE RNA/DNA Purification Kit and a leading competitors kit. The purified RNA was then resolved on an Agilent BioAnalzyer. As it can be seen, Norgen not only isolated higher yields of total RNA, but the RNA was also of a higher quality as evidenced by the higher RIN values obtained with Norgen's RNA.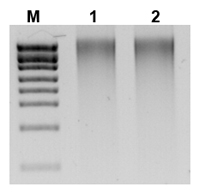 Figure 2. High Quality Genomic DNA

Genomic DNA was isolated from an FFPE kidney tissue sample using Nogen's FFPE Nucleic Acid Purification Kit in duplicate and run on a 1.5% agarose gel. From observing the gel it can be seen that the kit isolates high yields of intact genomic DNA. Lane M is Norgen's HighRanger 1kb DNA Ladder, and Lanes 1 and 2 contain the purified DNA samples.


FFPE RNA & DNA Kit Specifications (per prep)








FFPE RNA Kit Applications

• qRT-PCR and RT-PCR
• PCR and qPCR
• Primer Extension
• Expression Array Profiling
• Mutation Screening, SNP Analysis
• Sequencing
• Northern and Southern Blotting



Related Links