Antibody Arrays (Glass Based)
• High detection sensitivity, as low as pg/ml level
• Accurate and reproducible
• Compatible with diverse sample types
• Affordable, quick and simple to use
• High throughput method
• Fluorescent readout, detection by laser scanner

BioCat is pleased to offer medium density antibody arrays for semi-quantitative protein expression profiling. Now you can compare the expression levels of up to 174 proteins in your treated versus untreated samples.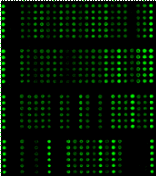 Arrays are available for the following research areas

- Adipokines
- Angiogenesis
- Apoptosis
- Cancer Markers
- Cell Cycle
- Cytokines
- Growth Factors
- Hematopoiesis
- Hormones
- Inflammation
- Signal Transduction
- Stem Cells

All arrays are suitable for tissue and cell lysates, cell culture supernatants, serum and plasma proteins, and other body fluids.
Please see individual products for antibody lists and array layout information.

The reagents for the Full Moon Biosystems arrays which employ the direct biotin labeling of proteins need to be ordered separately (Antibody Array Assay Kit, incl. protein extraction buffers).

The RayBio arrays come as complete kits. A cocktail of biotinylated detection antibodies binding the antigens in a sandwich format is provided with these arrays. Antigen detection is achieved with the addition of streptavidin-fluorophore conjugate (also provided).
Related Links
Antibody Arrays for Phosphoprotein Profiling

PDF-Downloads
- Will open in new browser window
User Manual Full Moon Biosystems Antibody Arrays
User Manual RayBio Glass Based Antibody Arrays (Human)
User Manual RayBio Glass Based Antibody Arrays (Mouse)
User Manual RayBio Glass Based Antibody Arrays (Rat)

| Description | Cat# | Size | Price | | |
| --- | --- | --- | --- | --- | --- |
| Full Moon BioSystems Antibody Array Assay Kit, 2 Reactions | KAS02-FM | 2 rxns | 370 € | DETAILS | |
| Apoptosis Antibody Array (73 antibodies, six replicates of each) (Full Moon Biosystems) | APP069-FM | 2 slides | 410 € | DETAILS | |
| Full Moon BioSystems Antibody Array Assay Kit, 20 Reactions | KAS20-FM | 20 rxns | 2650 € | DETAILS | |
| Cell Cycle Antibody Array (60 antibodies, six replicates of each) (Full Moon Biosystems) | ACC058-FM | 2 slides | 370 € | DETAILS | |
| Cytokine Antibody Array (77 antibodies, six replicates of each) (Full Moon Biosystems) | ACK075-FM | 2 slides | 420 € | DETAILS | |
| Kinase Antibody Array (276 antibodies, six replicates of each) | AVK276-FM | 2 slides | 780 € | DETAILS | |
| Signal Transduction Antibody Array (165 antibodies, six replicates of each) (Full Moon Biosystems) | AST160-FM | 2 slides | 600 € | DETAILS | |
| Acute Kidney Injury (AKI) (Human) Antibody Array G series 1 (4 subarrays/slide, 20 cytokine antibodies/subarray) (RayBio) | AAH-AKI-G1-4-RB | 4 sub-arrays per glass slide | 465 € | DETAILS | |
| Acute Kidney Injury (AKI) (Human) Antibody Array G series 1 (8 subarrays/slide, 20 cytokine antibodies/subarray) (RayBio) | AAH-AKI-G1-8-RB | 8 sub-arrays per glass slide | 695 € | DETAILS | |
| Adipokine (Human) Antibody Array G series 1 (4 subarrays/slide, 62 adipokine antibodies/subarray) (RayBio) | AAH-ADI-G1-4-RB | 1 slide & reagents | 560 € | DETAILS | |
| Adipokine (Human) Antibody Array G series 1 (8 subarrays/slide, 62 adipokine antibodies/subarray) (RayBio) | AAH-ADI-G1-8-RB | 1 slide & reagents | 1007 € | DETAILS | |
| Angiogenesis (Human) Antibody Array 1 (G Series) (4 subarrays/slide, 20 antibodies/subarray) (RayBio) | AAH-ANG-G1-4-RB | 1 slide & reagents | 465 € | DETAILS | |
| Angiogenesis (Human) Antibody Array 1 (G Series) (8 subarrays/slide, 20 antibodies/subarray) (RayBio) | AAH-ANG-G1-8-RB | 1 slide & reagents | 559 € | DETAILS | |
| Angiogenesis (Human) Antibody Array 1000 (G Series) (4 subarrays/slide, 43 antibodies/2 subarrays) (RayBio) | AAH-ANG-G1000-4-RB | 2 slides & reagents | 602 € | DETAILS | |
| Angiogenesis (Human) Antibody Array 1000 (G Series) (8 subarrays/slide, 43 antibodies/ 2 subarrays) (RayBio) | AAH-ANG-G1000-8-RB | 2 slides & reagents | 963 € | DETAILS | |
| Angiogenesis (Human) Antibody Array 2 (G Series) (4 subarrays/slide, 23 antibodies/subarray) (RayBio) | AAH-ANG-G2-4-RB | 1 slide & reagents | 465 € | DETAILS | |
| Angiogenesis (Human) Antibody Array 2 (G Series) (8 subarrays/slide, 23 antibodies/subarray) (RayBio) | AAH-ANG-G2-8-RB | 1 slide & reagents | 653 € | DETAILS | |
| Angiogenesis (Mouse) Antibody Array (G Series) (4 subarrays/slide, 24 antibodies/subarray) (RayBio) | AAM-ANG-G1-4-RB | 1 slide & reagents | 465 € | DETAILS | |
| Angiogenesis (Mouse) Antibody Array (G Series) (8 subarrays/slide, 24 antibodies/subarray) (RayBio) | AAM-ANG-G1-8-RB | 1 slide & reagents | 653 € | DETAILS | |
| Apoptosis (Human) Antibody Array 1 (G Series) (4 subarrays/slide, 43 antibodies/subarray) (RayBio) | AAH-APO-G1-4-RB | 1 slide & reagents | 465 € | DETAILS | |
| Apoptosis (Human) Antibody Array 1 (G Series) (8 subarrays/slide, 43 antibodies/subarray) (RayBio) | AAH-APO-G1-8-RB | 1 slide & reagents | 761 € | DETAILS | |
| Cytokine (Human) Antibody Array 1000 (G Series) (4 subarrays/slide,120 antibodies/2 subarrays) (RayBio) | AAH-CYT-G1000-4-RB | 2 slides & reagents | 1029 € | DETAILS | |
| Cytokine (Human) Antibody Array 1000 (G Series) (8 subarrays/slide,120 antibodies/ 2 subarrays) (RayBio) | AAH-CYT-G1000-8-RB | 2 slides & reagents | 1647 € | DETAILS | |
| Cytokine (Human) Antibody Array 2000 (G Series) (4 subarrays/slide,174 antibodies/3 subarrays) (RayBio) | AAH-CYT-G2000-4-RB | 3 slides & reagents | 1612 € | DETAILS | |
| Cytokine (Human) Antibody Array 2000 (G Series) (8 subarrays/slide,174 antibodies/3 subarrays) (RayBio) | AAH-CYT-G2000-8-RB | 3 slides & reagents | 2579 € | DETAILS | |
| Cytokine (Human) Antibody Array 3 (G Series) (4 subarrays/slide, 42 antibodies/subarray) (RayBio) | AAH-CYT-G3-4-RB | 1 slide & reagents | 465 € | DETAILS | |
| Cytokine (Human) Antibody Array 3 (G Series) (8 subarrays/slide, 42 antibodies/subarray) (RayBio) | AAH-CYT-G3-8-RB | 1 slide & reagents | 759 € | DETAILS | |
| Cytokine (Human) Antibody Array 5 (G Series) (4 subarrays/slide, 79 antibodies/subarray) (RayBio) | AAH-CYT-G5-4-RB | 1 slide & reagents | 560 € | DETAILS | |
| Cytokine (Human) Antibody Array 5 (G Series) (8 subarrays/slide, 79 antibodies/subarray) (RayBio) | AAH-CYT-G5-8-RB | 1 slide & reagents | 1007 € | DETAILS | |
| Cytokine (Human) Antibody Array 6 (G Series) (4 subarrays/slide, 60 antibodies/subarray) (RayBio) | AAH-CYT-G6-4-RB | 1 slide & reagents | 560 € | DETAILS | |
| Cytokine (Human) Antibody Array 6 (G Series) (8 subarrays/slide, 60 antibodies/subarray) (RayBio) | AAH-CYT-G6-8-RB | 1 slide & reagents | 1007 € | DETAILS | |
| Cytokine (Human) Antibody Array 7 (G Series) (4 subarrays/slide, 60 antibodies/subarray) (RayBio) | AAH-CYT-G7-4-RB | 1 slide & reagents | 560 € | DETAILS | |
| Cytokine (Human) Antibody Array 7 (G Series) (8 subarrays/slide, 60 antibodies/subarray) (RayBio) | AAH-CYT-G7-8-RB | 1 slide & reagents | 1007 € | DETAILS | |
| Cytokine (Human) Antibody Array 8 (G Series) (4 subarrays/slide, 54 antibodies/subarray) (RayBio) | AAH-CYT-G8-4-RB | 1 slide & reagents | 560 € | DETAILS | |
| Cytokine (Human) Antibody Array 8 (G Series) (8 subarrays/slide, 54 antibodies/subarray) (RayBio) | AAH-CYT-G8-8-RB | 1 slide & reagents | 1007 € | DETAILS | |
| Cytokine (Human) Antibody Array G10 (4 subarrays/slide, 49 cytokine antibodies/subarray) (RayBio) | AAH-CYT-G10-4-RB | 4 sub-arrays per glass slide | 668 € | DETAILS | |
| Cytokine (Human) Antibody Array G10 (8 subarrays/slide, 49 cytokine antibodies/subarray) (RayBio) | AAH-CYT-G10-8-RB | 8 sub-arrays per glass slide | 1069 € | DETAILS | |
| Cytokine (Human) Antibody Array G9 (4 subarrays/slide, 51 cytokine antibodies/subarray) (RayBio) | AAH-CYT-G9-4-RB | 4 sub-arrays per glass slide | 668 € | DETAILS | |
| Cytokine (Human) Antibody Array G9 (8 subarrays/slide, 51 cytokine antibodies/subarray) (RayBio) | AAH-CYT-G9-8-RB | 8 sub-arrays per glass slide | 1069 € | DETAILS | |
| Cytokine (Mouse) Antibody Array 1000 (G Series) (4 subarrays/slide,96 antibodies/2 subarrays) (RayBio) | AAM-CYT-G1000-4-RB | 2 slides & reagents | 1029 € | DETAILS | |
| Cytokine (Mouse) Antibody Array 1000 (G Series) (8 subarrays/slide,96 antibodies/2 subarrays) (RayBio) | AAM-CYT-G1000-8-RB | 2 slides & reagents | 1647 € | DETAILS | |
| Cytokine (Mouse) Antibody Array 2 (G Series) (4 subarrays/slide, 32 antibodies/subarray) (RayBio) | AAM-CYT-G2-4-RB | 1 slide & reagents | 465 € | DETAILS | |
| Cytokine (Mouse) Antibody Array 2 (G Series) (8 subarrays/slide, 32 antibodies/subarray) (RayBio) | AAM-CYT-G2-8-RB | 1 slide & reagents | 759 € | DETAILS | |
| Cytokine (Mouse) Antibody Array 3 (G Series) (4 subarrays/slide, 62 antibodies/subarray) (RayBio) | AAM-CYT-G3-4-RB | 1 slide & reagents | 560 € | DETAILS | |
| Cytokine (Mouse) Antibody Array 3 (G Series) (8 subarrays/slide, 62 antibodies/subarray) (RayBio) | AAM-CYT-G3-8-RB | 1 slide & reagents | 1007 € | DETAILS | |
| Cytokine (Mouse) Antibody Array 4 (G Series) (4 subarrays/slide, 34 antibodies/subarray) (RayBio) | AAM-CYT-G4-4-RB | 1 slide & reagents | 465 € | DETAILS | |
| Cytokine (Mouse) Antibody Array 4 (G Series) (8 subarrays/slide, 34 antibodies/subarray) (RayBio) | AAM-CYT-G4-8-RB | 1 slide & reagents | 699 € | DETAILS | |
| Cytokine (Mouse) Antibody Array G5 (4 subarrays/slide, 48 cytokine antibodies/subarray) (RayBio) | AAM-CYT-G5-4-RB | 4 sub-arrays per glass slide | 465 € | DETAILS | |
| Cytokine (Mouse) Antibody Array G5 (8 subarrays/slide, 48 cytokine antibodies/subarray) (RayBio) | AAM-CYT-G5-8-RB | 8 sub-arrays per glass slide | 836 € | DETAILS | |
| Cytokine (Mouse) Antibody Array G6 (4 subarrays/slide, 97 cytokine antibodies/subarray) (RayBio) | AAM-CYT-G6-4-RB | 4 sub-arrays per glass slide | 1070 € | DETAILS | |