Black Hole Scorpions Synthesis and Purification Service


Unlike TaqMan probes and Molecular Beacons which are based on a bi-molecular probing mechanism, Biosearch´s Black Hole Scorpions utilize a uni-molecular mechanism that does not require enzymatic cleavage of the probe during PCR cycling. This provides a number of important advantages over other PCR probe formats:

• Measurably faster reactions
• Enhanced sensitivity
• Simplified assay design
• Exceptional specificity
• Excellent S:N
• Easily multiplexed

These qualities make Black Hole Scorpions valuable tools for:
- Rapid, Real-time qPCR
- Endpoint PCR
- SNP Detection
- Gene Quantification
- Environmental Analysis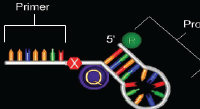 Black Hole Scorpion Primer
Dual-labeled hairpin probe with sequence-specific loop and primer, used with one reverse primer.

Black Hole Scorpions Architecture
Black Hole Scorpions are probe/primer hybrids whose design, unlike other FRET probes, is such that they emit light only when bound to their complementary target sequence during PCR amplification. Black Hole Scorpions incorporate two distinct structures: 1) a target-specific DNA probing sequence and 2) a target-specific PCR primer.

DNA Probing Sequence
The DNA probing sequence incorporates a self-complementary stem sequence at the 3´ and 5´ ends that holds the amplicon specific region in a hairpin loop. A fluorophore molecule is covalently linked to the 5´ end and, the dark quencher, a Black Hole Quencher dye, is linked to the 3´ end of the loop structure. The fluorophore and BHQ dye are held in close physical proximity by the stem structure thereby ensuring efficient suppression of fluorescence prior to thermocycling.

Target-specific Primer
The target-specific PCR primer is covalently linked to the 3´ end of the DNA probing sequence through a blocking molecule. This molecule prevents polymerase read-through thereby eliminating the formation of primer dimers or mis-priming.
Related Links
Real-Time PCR Dyes from Biosearch Technologies

PDF-Downloads
- Will open in new browser window
Multiplexing Recommendations Table

| Description | Cat# | Size | Price | | |
| --- | --- | --- | --- | --- | --- |
| Black Hole Scorpions Unimolecular Probe: 5' CAL Fluor Orange 560 (Emission 561 nm) Internal BHQ-1/HEG (Black Hole Quencher) | SCP-COB1-1-BS | 1 umol Scale (provides > 30 nmol pure probe) | 775 € | DETAILS | |
| Black Hole Scorpions Unimolecular Probe: 5' CAL Fluor Orange 560 (Emission 561 nm) Internal BHQ-1/HEG (Black Hole Quencher) | SCP-COB1-2-BS | 200 nmol Scale (provides > 10 nmol pure probe) | 575 € | DETAILS | |
| Black Hole Scorpions Unimolecular Probe: 5' CAL Fluor Red 590 (Emission 590 nm) Internal BHQ-2/HEG (Black Hole Quencher) | SCP-C590B2-1-BS | 1 umol Scale (provides > 30 nmol pure probe) | 775 € | DETAILS | |
| Black Hole Scorpions Unimolecular Probe: 5' CAL Fluor Red 590 (Emission 590 nm) Internal BHQ-2/HEG (Black Hole Quencher) | SCP-C590B2-2-BS | 200 nmol Scale (provides > 10 nmol pure probe) | 575 € | DETAILS | |
| Black Hole Scorpions Unimolecular Probe: 5' CAL Fluor Red 610 (Emission 610 nm) Internal BHQ-2/HEG (Black Hole Quencher) | SCP-CAB2-1-BS | 1 umol Scale (provides > 30 nmol pure probe) | 775 € | DETAILS | |
| Black Hole Scorpions Unimolecular Probe: 5' CAL Fluor Red 610 (Emission 610 nm) Internal BHQ-2/HEG (Black Hole Quencher) | SCP-CAB2-2-BS | 200 nmol Scale (provides > 10 nmol pure probe) | 575 € | DETAILS | |
| Black Hole Scorpions Unimolecular Probe: 5' CAL Fluor Red 635 (Emission 636 nm) Internal BHQ-2/HEG (Black Hole Quencher) | SCP-C635B2-1-BS | 1 umol Scale (provides > 15 nmol pure probe) | 775 € | DETAILS | |
| Black Hole Scorpions Unimolecular Probe: 5' CAL Fluor Red 635 (Emission 636 nm) Internal BHQ-2/HEG (Black Hole Quencher) | SCP-C635B2-2-BS | 200 nmol Scale (provides > 5 nmol pure probe) | 575 € | DETAILS | |
| Black Hole Scorpions Unimolecular Probe: 5' FAM (Emission 520 nm) Internal BHQ-1/HEG (Black Hole Quencher) | SCP-FB1-1-BS | 1 umol Scale (provides > 30 nmol pure probe) | 725 € | DETAILS | |
| Black Hole Scorpions Unimolecular Probe: 5' FAM (Emission 520 nm) Internal BHQ-1/HEG (Black Hole Quencher) | SCP-FB1-2-BS | 200 nmol Scale (provides > 10 nmol pure probe) | 525 € | DETAILS | |
| Black Hole Scorpions Unimolecular Probe: 5' Qasar (Emission 570 nm) Internal BHQ-2/HEG (Black Hole Quencher) | SCP-Q5B2-1-BS | 1 umol Scale (provides > 30 nmol pure probe) | 775 € | DETAILS | |
| Black Hole Scorpions Unimolecular Probe: 5' Qasar (Emission 570 nm) Internal BHQ-2/HEG (Black Hole Quencher) | SCP-Q5B2-2-BS | 200 nmol Scale (provides > 10 nmol pure probe) | 575 € | DETAILS | |
| Black Hole Scorpions Unimolecular Probe: 5' Qasar 670 (Emission 670 nm) Internal BHQ-2/HEG (Black Hole Quencher) | SCP-Q6B2-1-BS | 1 umol Scale (provides > 15 nmol pure probe) | 825 € | DETAILS | |
| Black Hole Scorpions Unimolecular Probe: 5' Qasar 670 (Emission 670 nm) Internal BHQ-2/HEG (Black Hole Quencher) | SCP-Q6B2-2-BS | 200 nmol Scale (provides > 5 nmol pure probe) | 675 € | DETAILS | |
| Black Hole Scorpions Unimolecular Probe: 5' TAMRA (Emission 576 nm) Internal BHQ-2/HEG (Black Hole Quencher) | SCP-TB2-1-BS | 1 umol Scale (provides > 30 nmol pure probe) | 775 € | DETAILS | |
| Black Hole Scorpions Unimolecular Probe: 5' TAMRA (Emission 576 nm) Internal BHQ-2/HEG (Black Hole Quencher) | SCP-TB2-2-BS | 200 nmol Scale (provides > 10 nmol pure probe) | 575 € | DETAILS | |
| Custom Synthesis and Purification of Reverse Primer (up to 30 bases) ordered together with Black Hole Scorpions Probe | SCP-P1-1-BS | 1 umol scale (provides > 30 nmol pure primer) | 60 € | DETAILS | |
| Custom Synthesis and Purification of Reverse Primer (up to 30 bases) ordered together with Black Hole Scorpions Probe | SCP-P1-2-BS | 200 nmol scale (provides > 10 nmol pure primer) | 48 € | DETAILS | |