Amplifluor Direct Primer Synthesis and Purification Service


Manufactured to the biotech industry´s highest synthesis and purification standards, Amplifluor Direct Primers are currently available with FAM or Cal Fluor Orange 560 (Biosearch´s new VIC or HEX replacement), and can be ordered at the 200 or 1000 nmol synthesis scale.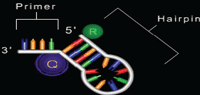 Amplifluor Direct Primer
Dual-labeled hairpin with sequence specific primer, used with one reverse primer.

Amplifluors combine primer and probe in one molecule. The oligo contains the primer sequence at the 3´ end and a hairpin structure at the 5´ end. Amplifluor Direct primers are often used for SNP/mutation detection studies, as amplifluors labeled with different fluorophores can be used with one common reverse primer to identify sequences differing by a single nucleotide.

To order Custom Amplifluor Direct Primers, see link below.
Related Links
Real-Time PCR Dyes from Biosearch Technologies

| Description | Cat# | Size | Price | | |
| --- | --- | --- | --- | --- | --- |
| Custom AmpliFluor Direct Primer Synthesis and Purification | COSAF-BS | various options | please inquire € | DETAILS | |