microRNA Detection by DNA Chips
GenoExplorer™ microRNA Chips: Profile and quantify both mature and precursor microRNAs
• Latest updated miRNA sequences (Sanger miRBase v17.0) with mature and precursor probes all on one array
• For publications citing GenoExplorer miRNA Chip technology see references links below
• Available for Human, Mouse, Rat, C.elegans, Drosophila, Arabidopsis (specific species per array)
• Positive and negative control probes (eg. 5S rRNA, tRNAs, U6) included
• High signal to noise ratio and subfemtamole sensitivity with 2.5 ug total RNA input (no miRNA enrichment required)
• Specificity of up to 94%
• Detection of less than 2 fold differential miRNA expression
• Highly reproducible results with CV < 15% between experiments
• > 3 logs of dynamic range on most scanners (eg. Axon, Agilent)
• Services are also available: Send us your Total RNA for microRNA expression array analyses (see link below)

Probe Content
GenoExplorer™ microRNA chips contain the latest updated miRNA sequences (see Sanger database link below). The probes are specifically and functionally validated. Probes were designed based on the full miRNA sequences, computed with their lengths, Tm, and secondary structure. The probes, consisting of mature and precursor sequences, covalently bind onto a 3-D matrix slide, and are printed in triplicate.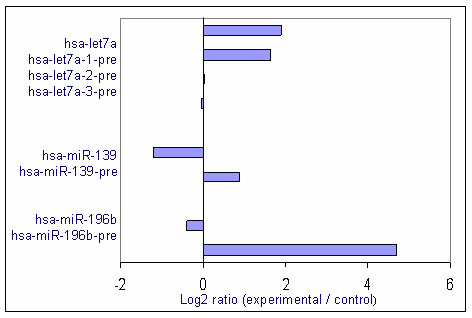 The graph shows log2 ratios of mean signal data comparing two different mouse RNA samples (control and experimental) for 3 sets of probes for both mature and precursor miRNA.

Specificity
The GenoExplorer™ microRNA platform offers a highly specific platform that can discriminate between sequences with up to 94% homology.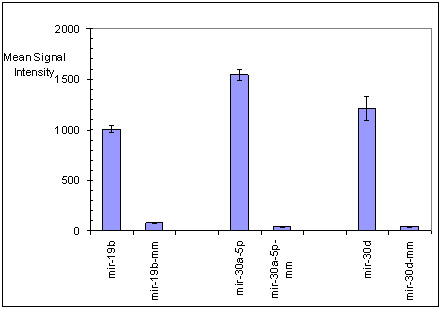 The graph shows mean signal data for pairs of miRNA with single-base and double-base mismatches using human brain RNA. The first two pairs are single-base mismatches with 94% homology and the last pair is a double-base mismatch with a homology of 90%. All mismatches yield fold-changes greater than 10x.

Sensitivity
The GenoExplorer™ microRNA platform offers a highly sensitive system for miRNA analysis.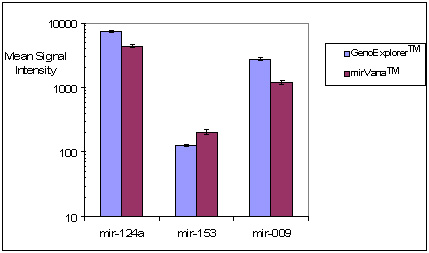 The graph shows mean signal data comparing the GenoExplorer™ microRNA labeling system to the mirVana™ labeling system using human brain RNA for 3 validated tissue-specific probes.

Reproducibility
The GenoExplorer™ microRNA platform is extremely reproducible, as high standard QA/QC procedures are performed under GMP and GLP protocols.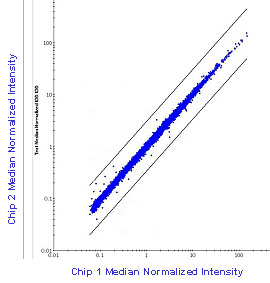 The graph shows the comparison of log2 mean signal intensities from independent arrays demonstrating a high array-to-array reproducibility.
Average CV of the comparative array results: 4,67 +/- 1,32 % (R2 = 0.9878)

GenoExplorer™ microRNA products are available as full kits (incl. chips and labeling/detection reagents), as chips only, and as probe sets for spotting them in your lab.
The Labeling Kit and various buffers are also available separately. The GenoSensor Labeling Kit requires no miRNA enrichment and no purification columns and ensures unbiased labeling using a 3 hours only protocol

For species-specific microRNA and precursor probe sequences see individual products.

Related Links
GenoExplorer™ microRNA Labeling Kit
Sanger miRNA Database
Contact us about microRNA Chip Services
Tissue Specific miRNA Expression Profiling (qPCR Array)
MicroRNA cDNA Synthesis Kit for subsequent PCR or qPCR
miRNA Detection by qRT-PCR

PDF-Downloads
- Will open in new browser window
Product Brochure
User Manual
Reference: miRNA gene expression in the mouse inner ear
Reference: miRNA-let7 regulates TLR4 expression
Reference: miRNA-124a regulates Foxa2 expression
Reference: AACR Presentation

| Description | Cat# | Size | Price | | |
| --- | --- | --- | --- | --- | --- |
| GenoExplorer microRNA Chips (Sanger miRBase v17.0) - Arabidopsis thaliana 20 (20 chips and 2 x hybridization buffer) | 1242c-GS | 20 slides & buffer | 5550 € | DETAILS | |
| GenoExplorer microRNA Chips (Sanger miRBase v17.0) - Arabidopsis thaliana 4 (4 chips and 2 x hybridization buffer) | 1241c-GS | 4 slides & buffer | 1390 € | DETAILS | |
| GenoExplorer microRNA Chips (Sanger miRBase v17.0) - C. elegans 20 (20 chips and 2 x hybridization buffer) | 1222c-GS | 20 slides & buffer | 5550 € | DETAILS | |
| GenoExplorer microRNA Chips (Sanger miRBase v17.0) - C. elegans 4 (4 chips and 2 x hybridization buffer) | 1221c-GS | 4 slides & buffer | 1390 € | DETAILS | |
| GenoExplorer microRNA Chips (Sanger miRBase v17.0) - Drosophila melanogaster 20 (20 chips and 2 x hybridization buffer) | 1232c-GS | 20 slides & buffer | 5550 € | DETAILS | |
| GenoExplorer microRNA Chips (Sanger miRBase v17.0) - Drosophila melanogaster 4 (4 chips and 2 x hybridization buffer) | 1231c-GS | 4 slides & buffer | 1390 € | DETAILS | |
| GenoExplorer microRNA Chips (Sanger miRBase v17.0) - Human 20 (20 chips and 2 x hybridization buffer) | 1202c-GS | 20 slides & buffer | 5550 € | DETAILS | |
| GenoExplorer microRNA Chips (Sanger miRBase v17.0) - Human 4 (4 chips and 2 x hybridization buffer) | 1201c-GS | 4 slides & buffer | 1390 € | DETAILS | |
| GenoExplorer microRNA Chips (Sanger miRBase v17.0) - Mouse / Rat 20 (20 chips and 2 x hybridization buffer) | 1212c-GS | 20 slides & buffer | 5550 € | DETAILS | |
| GenoExplorer microRNA Chips (Sanger miRBase v17.0) - Mouse / Rat 4 (4 chips and 2 x hybridization buffer) | 1211c-GS | 4 slides & buffer | 1390 € | DETAILS | |
| GenoExplorer microRNA Kit (Sanger miRBase v17.0) - Arabidopsis thaliana 20 (Full Kit, including 20 chips, labeling & detection reagents, and hybridization & wash buffers) | 1142c-GS | 20 rxns | 6350 € | DETAILS | |
| GenoExplorer microRNA Kit (Sanger miRBase v17.0) - Arabidopsis thaliana 4 (Full Kit, including 4 chips, labeling & detection reagents, and hybridization & wash buffers) | 1141c-GS | 4 rxns | 1530 € | DETAILS | |
| GenoExplorer microRNA Kit (Sanger miRBase v17.0) - C. elegans 20 (Full Kit, including 20 chips, labeling & detection reagents, and hybridization & wash buffers) | 1122c-GS | 20 rxns | 6350 € | DETAILS | |
| GenoExplorer microRNA Kit (Sanger miRBase v17.0) - C. elegans 4 (Full Kit, including 4 chips, labeling & detection reagents, and hybridization & wash buffers) | 1121c-GS | 4 rxns | 1530 € | DETAILS | |
| GenoExplorer microRNA Kit (Sanger miRBase v17.0) - Drosophila melanogaster 20 (Full Kit, including 20 chips, labeling & detection reagents, and hybridization & wash buffers) | 1132c-GS | 20 rxns | 6350 € | DETAILS | |
| GenoExplorer microRNA Kit (Sanger miRBase v17.0) - Drosophila melanogaster 4 (Full Kit, including 4 chips, labeling & detection reagents, and hybridization & wash buffers) | 1131c-GS | 4 rxns | 1530 € | DETAILS | |
| GenoExplorer microRNA Kit (Sanger miRBase v17.0) - Human 20 (Full Kit, including 20 chips, labeling & detection reagents, and hybridization & wash buffers) | 1102c-GS | 20 rxns | 6350 € | DETAILS | |
| GenoExplorer microRNA Kit (Sanger miRBase v17.0) - Human 4 (Full Kit, including 4 chips, labeling & detection reagents, and hybridization & wash buffers) | 1101c-GS | 4 rxns | 1530 € | DETAILS | |
| GenoExplorer microRNA Kit (Sanger miRBase v17.0) - Mouse / Rat 20 (Full Kit, including 20 chips, labeling & detection reagents, and hybridization & wash buffers) | 1112c-GS | 20 rxns | 6350 € | DETAILS | |
| GenoExplorer microRNA Kit (Sanger miRBase v17.0) - Mouse / Rat 4 (Full Kit, including 4 chips, labeling & detection reagents, and hybridization & wash buffers) | 1111c-GS | 4 rxns | 1530 € | DETAILS | |
| GenoExplorer microRNA Probe Set (Sanger miRBase v17.0) - Arabidopsis thaliana (complete A. thaliana microRNA probe set in 384-well plates) | 1441c-GS | 500 pmol of each probe | 2290 € | DETAILS | |
| GenoExplorer microRNA Probe Set (Sanger miRBase v17.0) - C. elegans (complete C. elegans microRNA probe set in 384-well plates) | 1421c-GS | 500 pmol of each probe | 2290 € | DETAILS | |
| GenoExplorer microRNA Probe Set (Sanger miRBase v17.0) - Drosophila melanogaster (complete D. melanogaster microRNA probe set in 384-well plates) | 1431c-GS | 500 pmol of each probe | 2290 € | DETAILS | |
| GenoExplorer microRNA Probe Set (Sanger miRBase v17.0) - Human (complete human microRNA probe set in 384-well plates) | 1401c-GS | 500 pmol of each probe | 2290 € | DETAILS | |
| GenoExplorer microRNA Probe Set (Sanger miRBase v17.0) - Mouse / Rat (complete mouse and rat microRNA probe set in 384-well plates) | 1411c-GS | 500 pmol of each probe | 2290 € | DETAILS | |
| 2 x Hybridization Buffer for GenoExplorer microRNA Chips | 1501-GS | 5 x 1 ml | 110 € | DETAILS | |
| 2 x Printing Buffer for GenoExplorer microRNA Probes (Phosphate Buffer pH 8.3) | 1502-GS | 100 ml | 90 € | DETAILS | |
| Blocking Buffer for GenoExplorer microRNA Chips | 1503-GS | 5 x 1 ml | 110 € | DETAILS | |
| Washing Buffers I and II for GenoExplorer microRNA Chips | 1504-GS | 120 ml and 50 ml | 110 € | DETAILS | |