Exosome Labeling
Exosomal Cyto-Tracers
• Monitor exosome trafficking in real-time
• Stable lentivector-based system for tracing
• Bright and photostable GFP/RFP is non-disruptive to cells

Molecular trafficking is a dynamic process in eukaryotic cells and the Cyto-Tracers provide the ability to light up cell compartments to monitor movement and localization of organelles and to trace endocytosis and exocytosis.
The tetraspanin proteins CD63, CD9 and CD81 are common biomarkers for exosomes.
Lentivector-based Cyto-Tracers expressing tetraspanin CD63, CD9 or CD81 fused to GFP or RFP mark exosomes and enable more long-term and more in-depth experimentation. The exosomal Cyto-Tracers can be used in transfections as well as packaged into virus to create stable GFP/RFP tracer cell lines in primary cells, tumor cell lines and stem cells. These cell lines secrete glowing exosomes which can be isolated using ExoQuick Exosome Precipitation Solution for downstream functional delivery and tracking studies.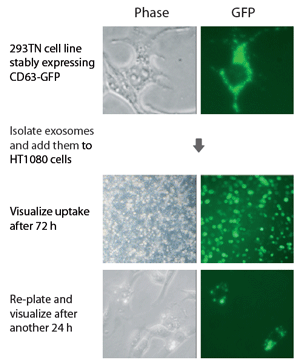 Exosomes isolated using ExoQuick-TC Exosome Precipitation Solution can be transferred between cells.
A stable 293TN cell line overexpressing the exosomal Cyto-Tracer CD63-GFP fusion protein (Cat# CYTO120-PA-1-SBI) was generated. The medium from the cells was collected 48 h after plating and the exosomes from the media were precipitated using ExoQuick-TC Exosome Precipitation Solution. The exosome pellet recovered was resuspended in 30 μl PBS and 10 μl was added to newly plated HT1080 cells.
HT1080 cells were visualized 72 h after the addition of the CD63-GFP labeled exosomes and then re-plated. Following another 24h, the cells were again visualized for GFP fluorescence and imaged. The exosomes appear to dock with the cells within 72 h and some are found to be internalized after 96 h.

For the precipitation of the glowing exosomes use SBI´s ExoQuick/ExoQuick-TC Exosome Precipitation Solution for subsequent functional delivery and tracking studies, see link below.
Related Links
ExoQuick™ Exosome Precipitation Solution
Other Cyto-Tracer Constructs

PDF-Downloads
- Will open in new browser window
| Description | Cat# | Size | Price | | |
| --- | --- | --- | --- | --- | --- |
| Exosome Secretion Cyto-Tracer Lenti Vector: pCT-CD63-GFP (pCMV, CD63 Tetraspanin Tag), packaged into lentiviral particles | CYTO120-VA-1-GVO-SBI | >2 x 10^6 IFUs | 646 € | DETAILS | |
| Exosome Secretion Cyto-Tracer Lenti Vector: pCT-CD63-GFP (pCMV, CD63 Tetraspanin Tag), Plasmid Version | CYTO120-PA-1-SBI | 10 ug | 545 € | DETAILS | |
| Exosome Secretion Cyto-Tracer Lenti Vector: pCT-CD63-RFP (pCMV, CD63 Tetraspanin Tag), packaged into lentiviral particles | CYTO120R-VA-1-GVO-SBI | >2 x 10^6 IFUs | 654 € | DETAILS | |
| Exosome Secretion Cyto-Tracer Lenti Vector: pCT-CD63-RFP (pCMV, CD63 Tetraspanin Tag), Plasmid Version | CYTO120R-PA-1-SBI | 10 ug | 545 € | DETAILS | |
| Exosome Secretion Cyto-Tracer Lenti Vector: pCT-CD81-GFP (pCMV, CD81 Tetraspanin Tag), packaged into lentiviral particles | CYTO124-VA-1-GVO-SBI | >2 x 10^6 IFUs | 646 € | DETAILS | |
| Exosome Secretion Cyto-Tracer Lenti Vector: pCT-CD81-GFP (pCMV, CD81 Tetraspanin Tag), Plasmid Version | CYTO124-PA-1-SBI | 10 ug | 545 € | DETAILS | |
| Exosome Secretion Cyto-Tracer Lenti Vector: pCT-CD81-RFP (pCMV, CD81 Tetraspanin Tag), packaged into lentiviral particles | CYTO125-VA-1-GVO-SBI | >2 x 10^6 IFUs | 646 € | DETAILS | |
| Exosome Secretion Cyto-Tracer Lenti Vector: pCT-CD81-RFP (pCMV, CD81 Tetraspanin Tag), Plasmid Version | CYTO125-PA-1-SBI | 10 ug | 545 € | DETAILS | |
| Exosome Secretion Cyto-Tracer Lenti Vector: pCT-CD9-GFP (pCMV, CD9 Tetraspanin Tag), packaged into lentiviral particles | CYTO122-VA-1-GVO-SBI | >2 x 10^6 IFUs | 646 € | DETAILS | |
| Exosome Secretion Cyto-Tracer Lenti Vector: pCT-CD9-GFP (pCMV, CD9 Tetraspanin Tag), Plasmid Version | CYTO122-PA-1-SBI | 10 ug | 545 € | DETAILS | |
| Exosome Secretion Cyto-Tracer Lenti Vector: pCT-CD9-RFP (pCMV, CD9 Tetraspanin Tag), packaged into lentiviral particles | CYTO123-VA-1-GVO-SBI | >2 x 10^6 IFUs | 646 € | DETAILS | |
| Exosome Secretion Cyto-Tracer Lenti Vector: pCT-CD9-RFP (pCMV, CD9 Tetraspanin Tag), Plasmid Version | CYTO123-PA-1-SBI | 10 ug | 545 € | DETAILS | |