Quantification of Global DNA Hydroxymethylation
MethylFlash™ Hydroxymethylated DNA Quantification Kits

• Measure global DNA hydroxymethylation levels in less than 4 hours
• 96-stripwell microplate format for manual or high throughput analysis
• No cross-reactivity to methylcytosine and unmethylated cytosine
• Include universal positive and negative controls, suitable for quantifying
hydroxymethylated DNA from any species
• Available in either colorimetric or fluorometric detection formats

Epigentek´s MethylFlash kits use an immunospecific detection method on a 96-
well plate to accurately and rapidly determine global DNA hydroxymethylation or methylation (see link below). By replacing cumbersome and expensive HPLC or mass spectrometry methods, you can now practically and routinely quantify either 5-hmC or 5-mC individually or both of them simultaneously in just 4 hours.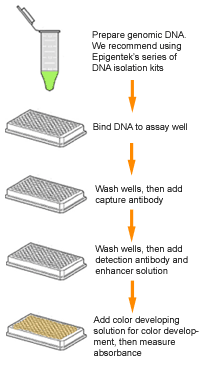 Fig. 1. Schematic procedure of the MethylFlash™ Hydroxymethylated DNA Quantification Kit.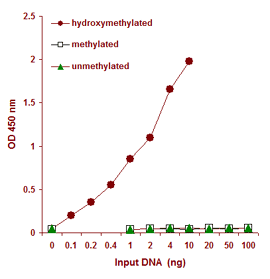 Fig. 2. Demonstration of high specificity of 5-hydroxymethylcytosine detection achieved by the MethylFlash™ kit. Synthetic unmethylated DNA (contains only cytosine), methylated DNA (contains only 5-methylcytosine), and hydroxymethylated DNA standard (contains only 5-hydroxymethylcytosine) were added into the assay wells at different concentrations and then measured with the MethylFlash™ Hydroxymethylated DNA Quantification Kit.
Related Links
MethylFlash™ Methylated DNA Quantification Kits
MethylFlash™ 5-Formylcytosine (5-fC) DNA Quantification Kit
5mC Hydroxylase Assays

Downloads
| Description | Cat# | Size | Price | | |
| --- | --- | --- | --- | --- | --- |
| MethylFlash Global DNA Hydroxymethylation (5-hmC) ELISA Easy Kit (Colorimetric) | P-1032-48-EP | 48 rxns | 299 € | DETAILS | |
| MethylFlash Global DNA Hydroxymethylation (5-hmC) ELISA Easy Kit (Colorimetric) | P-1032-96-EP | 96 rxns | 486 € | DETAILS | |
| MethylFlash Hydroxymethylated DNA Quantification Kit (Colorimetric) | P-1036-48-EP | 48 assays | 399 € | DETAILS | |
| MethylFlash Hydroxymethylated DNA Quantification Kit (Colorimetric) | P-1036-96-EP | 96 assays | 649 € | DETAILS | |
| MethylFlash Hydroxymethylated DNA Quantification Kit (Fluorometric) | P-1037-48-EP | 48 assays | 428 € | DETAILS | |
| MethylFlash Hydroxymethylated DNA Quantification Kit (Fluorometric) | P-1037-96-EP | 96 assays | 679 € | DETAILS | |