Expressioneering: Restriction Enzyme Free Mammalian Cloning and Expression Systems
Surprisingly Simple Recombinant Protein Expression!
• No vector preparation
• No restriction enzymes or ligase required
• No DNA purification steps
• No scars results in highly accurate sequences and proteins
• Easy downstream manipulation of small vector (3.4kb)
• CMV promoter for strong, constitutive eukaryotic expression

Clone your favorite gene in an effortless afternoon, and start expression analysis the next day with the Expresso® Cloning and Protein Expression System.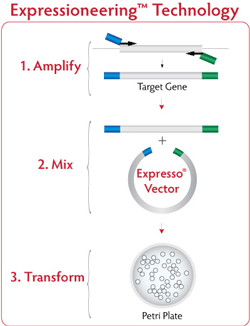 The Expresso® CMV Cloning and Expression System combines instant, enzyme-free, directional cloning with a "no scar" vector for eukaryotic gene expression. This cloning system is based on Expressioneering™ Technology, which uses in vivo homologous recombination to seamlessly clone PCR-amplified DNA into specially designed expression vectors without purification or enzymatic incubations. It's the fastest, easiest mammalian expression system available.

pME-HA Vector

The Expresso CMV Cloning and Expression System features the pME-HA expression vector, which contains all the elements you need, and nothing you don´t. The CMV promoter enables strong, constitutive expression in the smallest mammalian expression vector available. The 3.4kb vector supports higher tranfection efficiency and easier downstream manipulation. Combined with Expressioneering technology for instant, scar-free cloning, the result is surprisingly simple mammalian expression.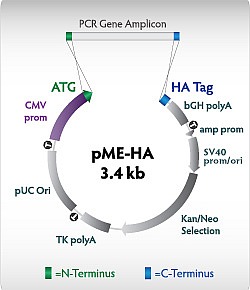 The CMV promoter drives expression of the PCR insert; amp and SV40 promoters express the gene for kanamycin/ neomycin resistance in bacteria and mammalian cells. The pUC origin gives high plasmid yields. CloneSmart® transcription terminators (T) prevent transcription into or out of the vector backbone, increasing clone stability. The HA affinity tag can be fused to the carboxy terminus of the expressed protein, if desired.

Strong Expression

The pME-HA vector provides robust protein expression, greater than or equal to that of the commonly-used vector pcDNA 3.1. Protein expression from the GFP gene (0.8 kb) and the full length beta-galactosidase gene (3 kb) was detected by Western blotting against the HA tag in CHO-K1 and COS-7 transfectants. Beta-galactosidase expression was also measured quantitatively in transfected CHO-K1 cells.
| Description | Cat# | Size | Price | | |
| --- | --- | --- | --- | --- | --- |
| Expresso CMV Cloning & Expression System | 49031-1-GVO-LU | 5 rxns | 249 € | DETAILS | |
| Expresso CMV Cloning & Expression System | 49031-2-GVO-LU | 10 rxns | 399 € | DETAILS | |