Pluripotency Genes: Expression Constructs
Induced Pluripotency Stem Cell (iPSC) Factor Constructs in Lentiviral and Retroviral Vectors
Induced pluripotent stem cells (iPSC) can be generated from various somatic cells by transfection of transcription factors, namely C-MYC, KLF4, LIN28, NANOG, OCT4 (POU5F1, OCT3/4), and SOX2. iPS cells are indistinguishable from ES cells in morphology, proliferation, gene expression, and teratoma formation.
Furthermore, when transplanted into blastocysts, iPS cells can give rise to adult chimeras, which are competent for germline transmission.

Human and Mouse iPSC factors for stem cell pluripotency reprogramming: Ready-made expression-validated constructs

Six Human iPSC Factors in Lentiviral piPSC Vector
• Pluripotency factors expressed from constitutive EF1a promoter
• Lentiviral-based protein expression system, HIV backbone for high viral titers
• Reliable delivery to dividing or non-dividing cells
• Monitor positive expressing cells with co-expressed RFP
• Convenient sorting of transfected or transduced cells
• Create stable cell lines
• All proteins are N-terminal HA-tagged

Shinya Yamanaka's group (Kyoto University)¹ and James Thompson's group (University of Wisconsin)² have each discovered a set of 4 human genes that, when overexpressed in human fibroblasts, induce the formation of cells that closely resemble human embryonic stem cells.
These two overlapping sets together contain 6 unique genes for which our partner Systems Biosciences has developed a complete set of expression constructs.

The six human pluripotency genes represented in the set of constructs are as follows: C-MYC, KLF4, LIN28, NANOG, OCT4 (POU5F1, OCT3/4), SOX2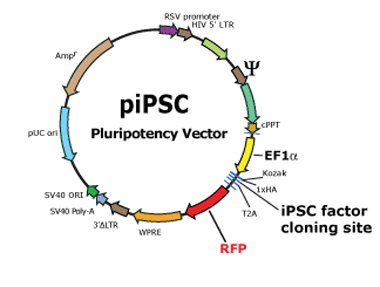 Map of of piPSC Stem Cell Factor Lentiviral Vector.

With the available constructs you can express iPSC protein factors in target cells through transfection (plasmid form) or transduction (packaged constructs). The RNA polymerase II driven expression of iPSC protein factors allows high level of expression from single copy of insert.
You can deliver the piPSC expression constructs into a wide range of cell lines including non-dividing or difficult-to-transfect cell lines with the biologically safe and high-titer enabled HIV-based lentivector. The co-expressed RFP marker enables you to monitor the stable expression of the target protein in your cell line.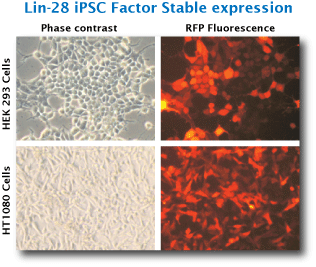 Cells expressing LIN-28 monitored with co-expressed RFP.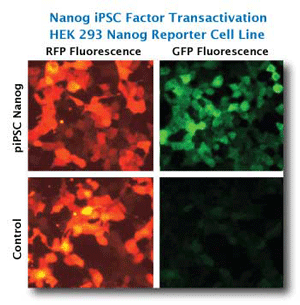 NANOG expression leads to NANOG promoter-driven GFP expression in reporter cell line.

You can either purchase the whole set of lentiviral pluripontency gene expression vectors as prepackaged lentiviral particles or as endotoxin-free plasmid DNA, or you can obtain each of the constructs individually, see table below.

Four Mouse iPSC Factors in Single pLentG-KOSM Lentiviral Vector
• Single polycistronic vector contains fusion of Klf4, Oct3/4, Sox2 and c-Myc genes
• Efficiency of iPS cell generation from single polycistronic virus is >10-fold higher efficiency than multi-virus transduction and >500-fold higher than non-viral methods
• Polycistronic vector also contains GFP reporter

pLentG-KOSM is a simple lentiviral vector in which defined factors are in-frame fused into a single open reading frame (ORF) via self-cleaving 2A peptides and are controlled by a CMV promoter. The transcription factor ORF is followed by IRES-GFP as a reporter for viral transduction. This polycistronic expression system can efficiently reprogram somatic cells into iPS cells; for example, in infected MEF (GFP+), the reprogramming efficiency is around 1%, which is at least 10-fold higher than the reprogramming method using a pool of viruses in which each virus expresses a different stem cell factor gene. Notably, most of the iPS cells generated using the pLentG-KOSM system contain only a single copy of the viral vector.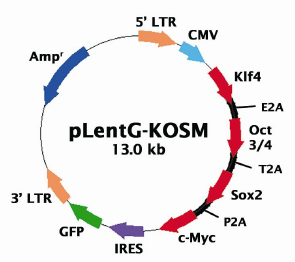 Map of pLentG-KOSM Lentiviral Vector.

Six Human/Mouse iPSC Factors in Retroviral pMXs Vector
• Premade retroviral vectors for expression of human and mouse iPSC factors c-Myc, KLF4, Lin28, Nanog, Oct3/4, and Sox2
• MMLV-based retroviral pMXs vector backbone which was used in the study referenced below3
• Retroviral packaging cell lines used in the same study also available (see link below)

Retroviruses are efficient tools for delivering heritable genes into the genome of dividing cells. Cell Biolabs' pMXs retroviral vector is based on Moloney murine leukemia virus (MMLV). The vector provides the viral package signal, transcription and processing elements, and MCS for cloning of a target gene. The viral env gene, produced by the package cell line, encodes the envelop protein, which determines the viral infectivity range. Transfection into a package cell line produces high-titer, replication-incompetent viruses.

The six human/mouse pluripotency genes represented in the set of constructs are as follows: c-Myc, KLF4, Lin28, Nanog, Oct3/4, and Sox2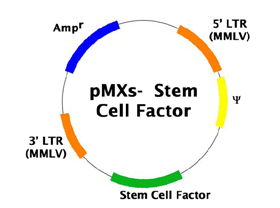 Map of pMXs Stem Cell Factor Retroviral Vector.

The retroviral human/mouse pluripontency gene expression vectors are either available individually or as sets, see table below.


References
¹ Takahashi K. et al. 2007. Induction of pluripotent stem cells from adult human fibroblasts by defined factors. Cell. 131: 861-72.
² Yu, J. et al. 2007. Induced Pluripotent Stem Cell Lines Derived from Human Somatic Cells. Science 318: 1917 – 1920.
3 Takahashi, K. and Yamanaka, S. 2006. Induction of pluripotent stem cells from mouse embryonic and adult fibroblast cultures by defined factors. Cell 126: 663–676.
Rossant, J. 2007. Stem cells: The magic brew. Nature 448, 260-262.
Baker, Monya 2007. Adult cells reprogrammed to pluripotency, without tumors. Nature Reports Stem Cells. 2007-12-11.
Okita, K, et. al. 2007. Generation of germline-competent induced pluripotent stem cells. Nature. 448:313-7.
Nakagawa, M et al., 2008. Generation of induced pluripotent stem cells without Myc from mouse and human fibroblasts. Nature Biotechnology. 26: 101-106.
Park, IH et al., 2008. Reprogramming of human somatic cells to pluripotency with defined factors. Nature. 451:141-6.
Related Links
Lentiviral Packaging Kit (HIV based)
Retroviral Packaging Cell Lines
Set of Reprogramming Supporter Molecules
Support Product: p53 shRNA Constructs
Pluripotency Reporter Vectors
Stem Cell Differentiation Reporter System
Overview: Stem Cell Related Products
HA Tag Monoclonal Antibody

| Description | Cat# | Size | Price | | |
| --- | --- | --- | --- | --- | --- |
| piPSC lentiviral Control Vector (empty vector) | SR10071PA-1-SBI | 10 ug | 522 € | DETAILS | |
| iPSC pPS-T2A-RFP lentiviral Control Vector for iPSC Factors (virus) | SR10071VA-1-SBI | >2 x 10^6 IFUs | 650 € | DETAILS | |
| Human c-myc Expression Construct in Lentiviral piPSC Vector, endotoxin free plasmid DNA. | SR10063PA-1-SBI | 10 ug | 1409 € | DETAILS | |
| Human c-myc Expression Construct in Lentiviral piPSC Vector, packaged in lentiviral particles (HIV based) | SR10063VA-1-GVO-SBI | >2 x 10^6 IFUs | 636 € | DETAILS | |
| Human KLF4 Expression Construct in Lentiviral piPSC Vector, endotoxin free plasmid DNA. | SR10065PA-1-SBI | 10 ug | 1409 € | DETAILS | |
| Human KLF4 Expression Construct in Lentiviral piPSC Vector, packaged in lentiviral particles (HIV based) | SR10065VA-1-GVO-SBI | >2 x 10^6 IFUs | 636 € | DETAILS | |
| Human Lin28 Expression Construct in Lentiviral piPSC Vector, endotoxin free plasmid DNA. | SR10064PA-1-SBI | 10 ug | 1409 € | DETAILS | |
| Human Lin28 Expression Construct in Lentiviral piPSC Vector, packaged in lentiviral particles (HIV based) | SR10064VA-1-GVO-SBI | >2 x 10^6 IFUs | 636 € | DETAILS | |
| Human Nanog Expression Construct in Lentiviral piPSC Vector, endotoxin free plasmid DNA. | SR10060PA-1-SBI | 10 ug | 1409 € | DETAILS | |
| Human Nanog Expression Construct in Lentiviral piPSC Vector, packaged in lentiviral particles (HIV based) | SR10060VA-1-GVO-SBI | >2 x 10^6 IFUs | 636 € | DETAILS | |
| Human Oct4 (Oct 3/4 POU5F1) Expression Construct in Lentiviral piPSC Vector, endotoxin free plasmid DNA. | SR10061PA-1-SBI | 10 ug | 1409 € | DETAILS | |
| Human Oct4 (Oct 3/4 POU5F1) Expression Construct in Lentiviral piPSC Vector, packaged in lentiviral particles (HIV based) | SR10061VA-1-GVO-SBI | >2 x 10^6 IFUs | 636 € | DETAILS | |
| Human Sox2 Expression Construct in Lentiviral piPSC Vector, endotoxin free plasmid DNA. | SR10062PA-1-SBI | 10 ug | 1409 € | DETAILS | |
| Human Sox2 Expression Construct in Lentiviral piPSC Vector, packaged in lentiviral particles (HIV based) | SR10062VA-1-GVO-SBI | >2 x 10^6 IFUs | 636 € | DETAILS | |
| Set of Human Pluripotency Genes Expression Constructs (6 genes: c-myc, KLF4, Lin28, Nanog, Oct4, Sox2) in Lentiviral piPSC Vector, endotoxin free plasmid DNA. | SR10066PA-1-SBI | 6 x 10 ug | 8134 € | DETAILS | |
| Set of Human Pluripotency Genes Expression Constructs (6 genes: c-myc, KLF4, Lin28, Nanog, Oct4, Sox2) in Lentiviral piPSC Vector, packaged in lentiviral particles (HIV based) | SR10066VA-1-GVO-SBI | >2 x 10e6 ifu each | 3210 € | DETAILS | |
| Set of Human Pluripotency Genes Expression Constructs (LNSO, 4 genes: lin28, nanog, sox2, oct4) in Lentiviral piPSC Vector, endotoxin free plasmid DNA. | SR10077PA-1-SBI | 4 x 10 ug | 4899 € | DETAILS | |
| Set of Human Pluripotency Genes Expression Constructs (LNSO, 4 genes: lin28, nanog, sox2, oct4) in Lentiviral piPSC Vector, packaged in lentiviral particles (HIV based) | SR10077VA-1-GVO-SBI | >2 x 10e6 ifu each | 1954 € | DETAILS | |
| Set of Human Pluripotency Genes Expression Constructs (OSKM, 4 genes: oct4, sox2, klf4, c-myc) in Lentiviral piPSC Vector, packaged in lentiviral particles (HIV based) | SR10076VA-1-GVO-SBI | >2 x 10e6 ifu each | 1954 € | DETAILS | |
| Mouse KLF4, Oct3/4, Sox2 and c-Myc Polycistronic Expression Construct in pLentG-KOSM Lentiviral Vector | LTV-700-GVO-CB | Glycerol Stock | 1465 € | DETAILS | |
| Set of Human Pluripotency Genes Expression Constructs (OSKM, 4 genes: oct4, sox2, klf4, c-myc)) in Lentiviral piPSC Vector, endotoxin free plasmid DNA. | SR10076PA-1-SBI | 4 x 10 ug | 4899 € | DETAILS | |
| Human c-myc Expression Construct in Retroviral pMXs Vector, Plasmid DNA | RTV-703-CB | 10 ug | 585 € | DETAILS | |
| Human KLF4 Expression Construct in Retroviral pMXs Vector, Plasmid DNA | RTV-704-CB | 10 ug | 585 € | DETAILS | |
| Human Lin28 Expression Construct in Retroviral pMXs Vector, Plasmid DNA | RTV-710-CB | 10 ug | 585 € | DETAILS | |
| Human Nanog Expression Construct in Retroviral pMXs Vector, Plasmid DNA | RTV-709-CB | 10 ug | 585 € | DETAILS | |
| Human Oct4 (Oct 3/4 POU5F1) Expression Construct in Retroviral pMXs Vector, Plasmid DNA | RTV-701-CB | 10 ug | 585 € | DETAILS | |
| Human Sox2 Expression Construct in Retroviral pMXs Vector, Plasmid DNA | RTV-702-CB | 10 ug | 585 € | DETAILS | |
| Mouse c-myc Expression Construct in Retroviral pMXs Vector, Plasmid DNA | RTV-707-CB | 10 ug | 585 € | DETAILS | |
| Mouse KLF4 Expression Construct in Retroviral pMXs Vector, Plasmid DNA | RTV-708-CB | 10 ug | 585 € | DETAILS | |
| Mouse Lin28 Expression Construct in Retroviral pMXs Vector, Plasmid DNA | RTV-712-CB | 10 ug | 585 € | DETAILS | |
| Mouse Nanog Expression Construct in Retroviral pMXs Vector, Plasmid DNA | RTV-711-CB | 10 ug | 585 € | DETAILS | |
| Mouse Oct4 (Oct 3/4 POU5F1) Expression Construct in Retroviral pMXs Vector, Plasmid DNA | RTV-705-CB | 10 ug | 585 € | DETAILS | |
| Mouse Sox2 Expression Construct in Retroviral pMXs Vector, Plasmid DNA | RTV-706-CB | 10 ug | 585 € | DETAILS | |
| Set of Human Pluripotency Genes Expression Constructs ( 4 genes: c-myc, KLF4, Oct4, Sox2) in Retroviral pMXs Vector, Plasmid DNA. | RTV-701-C-CB | 4 x 10 ug | 1665 € | DETAILS | |
| Set of Human Pluripotency Genes Expression Constructs ( 6 genes: c-myc, KLF4, Lin28, Nanog, Oct4, Sox2) in Retroviral pMXs Vector, Plasmid DNA. | RTV-709-C-CB | 6 x 10 ug | 2210 € | DETAILS | |
| Set of Mouse Pluripotency Genes Expression Constructs ( 4 genes: c-myc, KLF4, Oct4, Sox2) in Retroviral pMXs Vector, Plasmid DNA. | RTV-705-C-CB | 4 x 10 ug | 1665 € | DETAILS | |
| Set of Mouse Pluripotency Genes Expression Constructs ( 6 genes: c-myc, KLF4, Lin28, Nanog, Oct4, Sox2) in Retroviral pMXs Vector, Plasmid DNA. | RTV-711-C-CB | 6 x 10 ug | 2210 € | DETAILS | |
| Retroviral Pool of Human Pluripotency Genes Expression Constructs ( 4 genes: c-myc, KLF4, Oct4, Sox2), 4 x 10e6 IFU per construct per vial | SR200VA-2-GVO-SBI | 2 vials | 1119 € | DETAILS | |
| Oct4 Retroviral Human Pluripotency Gene Expression Construct, Packaged Retrovirus, 4 x 10e6 IFU per vial | SR200VA-O-GVO-SBI | 2 vials | 373 € | DETAILS | |
| Sox2 Retroviral Human Pluripotency Gene Expression Construct, Packaged Retrovirus, 4 x 10e6 IFU per vial | SR200VA-S-GVO-SBI | 2 vials | 373 € | DETAILS | |
| KLF4 Retroviral Human Pluripotency Gene Expression Construct, Packaged Retrovirus, 4 x 10e6 IFU per vial | SR200VA-K-GVO-SBI | 2 vials | 373 € | DETAILS | |
| c-myc Retroviral Human Pluripotency Gene Expression Construct, Packaged Retrovirus, 4 x 10e6 IFU per vial | SR200VA-C-GVO-SBI | 2 vials | 373 € | DETAILS | |