Human Induced Pluripotent Cells (Human iPS Cell Lines)
Jump start your iPS cell research with pre-made, high quality iPS cell lines

• iPS cell lines made using Oct4, Sox2, c-Myc, and KLF4
• Study the induced pluripotency process
• Measure mRNA and microRNA signatures
• Identify novel epigenetic markers to study pattern formation
• Develop directed differentiation protocols


All iPS Cell lines are certified to be pluripotent through iPS Cell Marker staining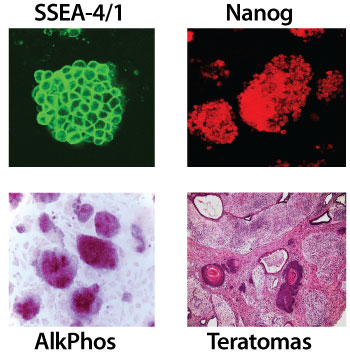 Stem cell markers for SSEA4/1 and Nanog were determined by immunocytochemistry using primary antibodies for SSEA1 (Millipore), SSEA4 (Abcam) and Nanog (Abcam) followed by fluorescent-labeled secondary Alexa594 antibodies (Invitrogen). Detection of Alkaline Phosphatase activity was performed using the AP Detection kit (Millipore). Teratoma assays were performed by subcutaneous injection of 1x10^6 iPS cells into the dorsal flank of SCID mice. Teratomas were visualized after 4 weeks with hematoxylin and eosin staining.

Quality Source and Feeder Cells for Reliable Reprogramming

Human Epidermal Keratinocytes, neonatal cells only or complete kit:

• Highly pure, passage 1 neonatal epidermal keratinocytes optimized for iPSC generation
• Isolated from individual foreskin, single genetic background
• Human epidermal keratinocytes have been demonstrated to reprogram at least 100-fold more efficiently and at twice the speed of fibroblasts
• Keratinocytes are the only cell type of ectodermal origin—best source cells for Neural studies

Product formats

Neonatal Epidermal Keratinocyte Cells for iPSC generation (Cat#PC503hEKTN-C)

Human Epidermal Keratinocytes (Primary cells, Passage 1)
Note the "cobblestone-like" morphology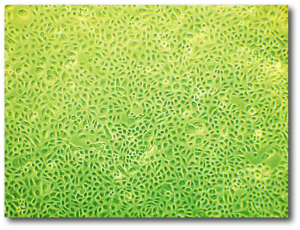 Human foreskin fibroblasts, neonatal (Cat#PC501A-HFF)

• Highly pure neonatal foreskin fibroblasts optimized for iPSC generation
• Isolated from individual foreskin, single genetic background
• Measure mRNA and microRNA signatures
• Two times more cells/vial compared with competitors' product

Highly pure neonatal foreskin fibroblasts for Feeder Cells (Cat#PC502B-HFF)

• Highly pure neonatal foreskin fibroblasts
• Pooled neonatal foreskin fibroblasts optimized as feeder cells

Human Foreskin Fibroblasts (Primary cells, Passage 1)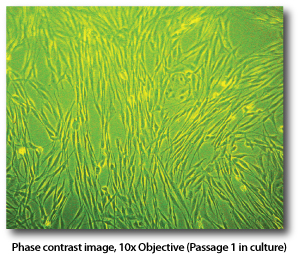 Custom iPS Cell Line Service
Provide cells from your human or mouse model system, and our partner SBI will reprogram the cells using lentivirus expressing Oct4, Sox2, Klf4, and c-myc.
After about 3 months you will receive your specific iPS Cell Line, certified to be pluripotent through marker staining. Please see link below to request a quotation.
Related Links
StemPure Growth Medium
Mouse iPS Cell Line
Ask for a Custom iPS Cell Line Service Quotation
Overview of Tools for Stem Cell Research

| Description | Cat# | Size | Price | | |
| --- | --- | --- | --- | --- | --- |
| Human Adipose Stem Cell-derived (feeder-free) iPS cells (hASC-iPSCs) | SC402A-1-GVO-SBI | 2 x 10e5 cells | 1242 € | DETAILS | |
| Human Fibroblast-derived (feeder-free) iPSC Cell Line, includes 500 ml PSGro iPSC Growth Media (SC500M-1) | SC102A-1-GVO-SBI | 2 x 10e5 cells | 1219 € | DETAILS | |
| Human Foreskin Fibroblasts (P1 passage, from individual genetic source) for iPS Cell Line Construction | PC501A-HFF-SBI | 1 x 10e6 cells | 497 € | DETAILS | |
| Human Foreskin Fibroblasts (P1 passage, pooled) for use as feeder cells | PC502B-HFF-SBI | 1 x 10e6 cells | 373 € | DETAILS | |
| Human Epidermal Keratinocytes (Cryopreserved) for iPS Cell Line (iPSC) Construction | PC503hEKTN-C-SBI | 1 x 10^6 cells | 497 € | DETAILS | |
| Human Epidermal Keratinocytes for iPSC Construction, complete kit with keratinocytes, culture medium and neutralization solution | PC503hEKTN-K-SBI | 1 kit | 926 € | DETAILS | |