RayBiotech Special: 15% OFF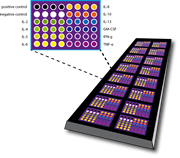 Profile hundreds of proteins on a single array using RayBiotech Antibody Arrays. The identical antibody pairs used for the RayBiotech C- and G-series Cytokine Antibody Arrays are contained in the corresponding ELISA Kits recommended for array data validation.
*Offer valid until 30 April 2014
Boyden chamber- and gap closure-based assays are provided for the analysis of cell migration and invasion.
A broad portfolio of sensitive assays to quantify oxidative stress is offered.